Home » An economy in tatters. A government in turmoil. Trust in leaders and institutions at all time lows.
Submitted by kgilliam on Fri, 2011-08-12 19:18.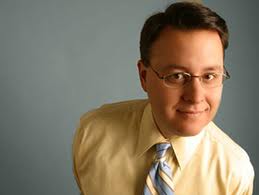 How can you navigate these waters? What can we all do to restore our collective confidence?
It starts with a return to fundamentals. The experience of the past few years has shredded our civil society, left many of our leaders so attached to being right that they can't see their role in crushing economic growth. Overcoming these challenges will take straight-talk and a close examination of the relationships between us as individuals and the institutions that we rely on: businesses, governments, NGOs, and civil society as a whole. The COMMIT!Forum convenes on Sept 26-27 in New York City to do just that: strengthen the fabric of our society.
We've endured greater hardships and we will overcome these but the long arc of history bends towards justice only when good people come together to make it. It is fitting and good that we have chosen the site of this rebirth as the world's financial center: New York City and the New York Stock Exchange. In these epicenters we will come together to reinforce and rebuild the ties that bind us. Add your voice to this vital gathering of leaders from across all sectors of civil society. Join in:
Big Idea Lightening Round. Think all hope is lost? Get inspired by 10 people out to change the world. From workers rights to water to HIV/AIDS to putting veterans back to work, you will come away recharged with new hope.
A Debate on the Role of Business in Society. Two sides face-off to settle the question – is corporate responsibility a big waste of money? Join in the debate with leading academics from Columbia and the University of Michigan and hardnosed investors as they dig deep into these issues and take your questions.
The Executive Summit at the New York Stock Exchange. An exclusive gathering of CEOs, CFOs, COOs, and CROs at the New York Stock Exchange in a unique roundtable discussion, featuring UN Assistant Secretary General John Ruggie, NYSE Euronext CEO Duncan Niederauer, Phillips-Van Heusen CEO Manny Chirico, Green Mountain Coffee CEO Larry Blanford, and more.
Frank dialog with investors, bankers, and financial analysts. Frustrated with how these institutions have behaved? Get answers to your tough questions by joining in three dedicated panel discussions on the role of investors and financial institutions in encouraging corporate responsibility.
Real engagement with civil society. Beyond the presentations and workshops, several of the most important NGOs in corporate responsibility and civil society will be onsite for real dialog. Participating NGOs include the Corporate Responsibility Officers Association, Corporate Voices for Working Families, Global Reporting Initiative, the Human Society, the National Democratic Institute, Environmental Defense Fund and many more.
Our full program here.
If you want to play a role in restarting our economy on more sustainable foundations, we want you there. If you have an idea for how to strengthen our civil society and remake the institutions we rely on, we want you there. If you are a decision-maker or influencer who can encourage others to join in this struggle, we want you there. Join us today by registering online at www.commitforum.com. Register before Aug 15 and save 40%!
Share this page!