Home » ResponsibilityWorks Roundtable
Submitted by admin on Thu, 2010-05-20 22:30.


Improving sustainability and transparency of the government supply chain
Seeking Your Commitment to the Sustainable Supply Chain CoP
Commitment Form
CROA
is partnering with GSA, the sponsor of the
Sustainable Supply Chain CoP
on data.gov, to solicit active participants in and contributors to this new online community. If you have sustainable supply chain practices to share -- e.g. a supplier code of conduct, checklists or tutorials for your suppliers, research or tools that quantify the impact --
click here to make your commitment
.
1.
Advocate for sustainable supply chain practices within their organization and their market sector(s)
2.
Share their sustainable supply chain practices on the Sustainable Supply Chain CoP on, at minimum, a quarterly basis
3.
Support and help build the capacity for sustainable practices by suppliers
In return, Champions: receive public recognition for their good work, featured in the COMMIT!Campaign; can accelerate their results via collaborative best practices building; and can reach success by driving adoption throughout their supply chain.
************************************************
Initial Findings of Sustainable Value Chain Research Released
View the Overview
Do you ever wonder about the best way to achieve the sustainability goals you have for your value chain? Which concrete actions really work (and are worth investing time or money in), and which don't? In 2012 CROA
launched a multi-year
research project
with ASQ, ISM, and with the help of Deloitte designed to pr
ovide insight in a way they hasn't been done before – ever.
The first phase was a survey addressing the sustainability of the whole value chain by asking questions others haven't and linking practices to overall success at meeting sustainability goals, receiving
1000 responses.
Click here
for an overview of the survey findings or visit the
Research page
for additional analysis including 10 management practices that can improve sustainable value chain effectiveness and 5 management practices that reduce operating cost.

************************************************
3rd Annual Roundtable: If Sustainability Costs You More, You're Doing it Wrong
View the discussion outcomes
CROA held the
3rd Annual Roundtable
hosted by its Responsibility
Works
Steering Committee on July 18th, which brought together 80 executives from across business, government, NGO/nonprofit and academia committed to improving transparency and responsibility in the government contracting community. They explored two top trends coming together for mutual benefit.
These days you can't get through an entire day without hearing references to:
The urgent need for government at all levels to close increasingly large budget gaps
The urgent need for organizations of all stripes to engage in more sustainable practices
In fact, the White House Council on Environmental Quality recently launched a Sustainable Supply Chain Community of Practice to encourage greater transparency and the sharing of sustainable supply chain best practices. At the same time, as the Partnership for Public Service points out in Making Smart Cuts, "Billions of dollars in cuts to programs have already been agreed to" across a wide variety of programs and services,"" The report shares invaluable strategies, and a series of supporting tactics, for government leaders to employ in their efforts to meet budget cut demands. Sustainability should be in the toolkit of every agency and contractor.
This Roundtable demonstrated that sustainable practices, both within an organization and along its value chain, are tested and proven tools in the budget cutting battle. This isn't about sustainability for sustainability's sake – doing good because it makes us feel good. This is about engaging in sustainable practices that both reduce costs and result in environmental and societal benefits.
Click here for the Roundtable participant list.
View speaker presentations from this event:
Nancy Gillis, Director, Federal Supply Chain Emissions, General Services Administration & Chair, Section 13 Interagency Working Group
Edward Rau,

Chair, DHHS Sustainability Innovations Working Group

Amanda Sahl, Lead for Energy Efficient Product Procurement, Federal Energy Management Program, Department of Energy
Click here for more on this topic.
Click here to join the ResponsibilityWorks LinkedIn group to participate in this important conversation.
Join CROA to become a part of the ResponsibilityWorks working group that will be consolidating this input into recommendations.
For more information or to join, please contact Heather Nielsen, Manager, Membership Services.
************************************************
CR Magazine Releases 3rd Annual Best Corporate Citizens in Government Contracting List
************************************************
What is ResponsibilityWorks?
The people of the United States are demanding increasing levels of transparency and accountability from their government and the companies with which it does business. President Obama has responded with a historic commitment to bringing more transparency and integrity to the way his Administration conducts itself and how it interacts with its business partners.
In keeping with these principles, CROA has created ResponsibilityWorks, a roundtable launched in June 2010 that convened sixty leaders of companies, government agencies, nonprofits, and academia committed to improving transparency and responsibility among contractors. To coincide with this launch, CR Magazine released the inaugural Best Corporate Citizens in Government Contracting List, underscoring how the work of the Roundtable will help government and the public at large more effectively hold companies accountable in such areas as Governance, Ethics, Sustainability, Human Rights, Employee Relations, Philanthropy, and Financial Performance.
The mission of the Roundtable began with the goal to foster and evolve corporate responsibility practices, measures, and disclosure in the government contractor community and has expanded beyond the public sector to tackle the broader issue of sustainable value chains. Through a vibrant community of practice, cross-sector leaders will collectively produce models, measurements, and recommendations to drive transparency and accountability over the next quarter century.
To read the ResponsibilityWorks Call to Action, please click here.
To hear more about ResponsibilityWorks, recently featured on Federal News Radio, please click here.
For an overview of the work of the ResponsibilityWorks Roundtable, please click here.
To join CROA and underwrite ResponsibilityWorks working group, click here.
ResponsibilityWorks Steering Committee Members:
CSC - Ann-Marie Johnson; Compusearch - Reid Jackson; Defense Acquisition University - Lenn Vincent; General Services Administration - Nancy Gillis & Crystal Cavalier; George Washington University - Kathy Newcomer; HP - Judy Douglas & Kiersten Regelin; IBM - Charles Prow, Dan Chenok & Ken Stockman; The MITRE Corporation (FFRDC) - Karen See; Partnership for Public Service - Tina Sung; State Department - Carrie George & Alan Krill; UL Responsible Sourcing - Sol Milius; Unison Advisory Group - Lynne Kaye For a full member list, please visit the CROA member page.
Government Participation in Roundtable Events:
Federal Aviation Administration (FAA), General Services Administration (GSA), Government Accountability Office (GAO), NASA, National Geospatial-Intelligence Agency (NGA), National Science Foundation, Office of the Director of National Intelligence, Office of Federal Procurement Policy (OFPP), Office of Management and Budget (OMB), Office of Naval Research, Office of the Secretary of Defense, Pennsylvania House of Representatives, Securities and Exchange Commission (SEC), USAID, US Air Force, US Army, US Navy, US Congress, US Department of Agriculture (USDA), US Department of State, US Postal Service (USPS), US Senate
For more information or to join, please contact Heather Nielsen, Director of Communities & Member Services.
********************************
Administrator Gordon Issues Challenge to 2nd Annual Government & Industry Roundtable
Join the conversation!
Administrator Dan Gordon, head of federal procurement policy for the White House, challenged participants from across government, industry, non-profit/NGOs, and academia at the July 20th roundtable to provide recommendations on how best to account for corporate responsibility in government purchasing in a way that does not disadvantage small businesses or cause disruption to the procurement process.
Click here to view the Outcomes of the 2nd Annual ResponsibilityWorks Roundtable.
Click here to join the ResponsibilityWorks LinkedIn group and participate in this important conversation on improving transparency and sustainability in the government supply chain.
Click here to view the roundtable agenda.
Click here to view the roundtable participant list.

ResponsibilityWorks Featured on Federal News Radio
DorobekINSIDER interview of CROA Executive Director, Richard Crespin
Click here to listen online to the Federal News Radio DorobekINSIDER program, which begins with a focus on the impetus behind ResponsibilityWorks; how CR Magazine and the CROA have measured the effectiveness of corporate responsibility in industry for over ten years, with research showing that companies really can do well by doing good. In fact, the list of the 100 Best Corporate Citizens consistently out-performs the S&P in double digits while the Black List of the least transparent companies in the world consistently under-performs in double digits. CROA's members asked to put those data, practices, and insights to work for government, ensuring that government and its contractors can also do well by doing good.
The interview goes on to clarify what ResponsibilityWorks is not. It's not an initiative around new laws or regulations. By definition, Corporate Responsibility is about companies holding themselves to a higher standard. Obeying the law is compliance, not responsibility. ResponsibilityWorks is also not seeking to increase the cost of doing business. Many companies have CR programs that improve their bottom line, so it aims to bring these practices to government and its contractors.
In terms of the current focus, members of the roundtable are talking with agencies to identify pilots that match our responsibility data with contract-performance data. This will help develop government-wide best practices that ensure responsible companies deliver better results for their shareholders and their government customers. To help introduce this initiative to government officials or discuss potential pilot programs, please contact Heather Nielsen. To hear the full interview, click here.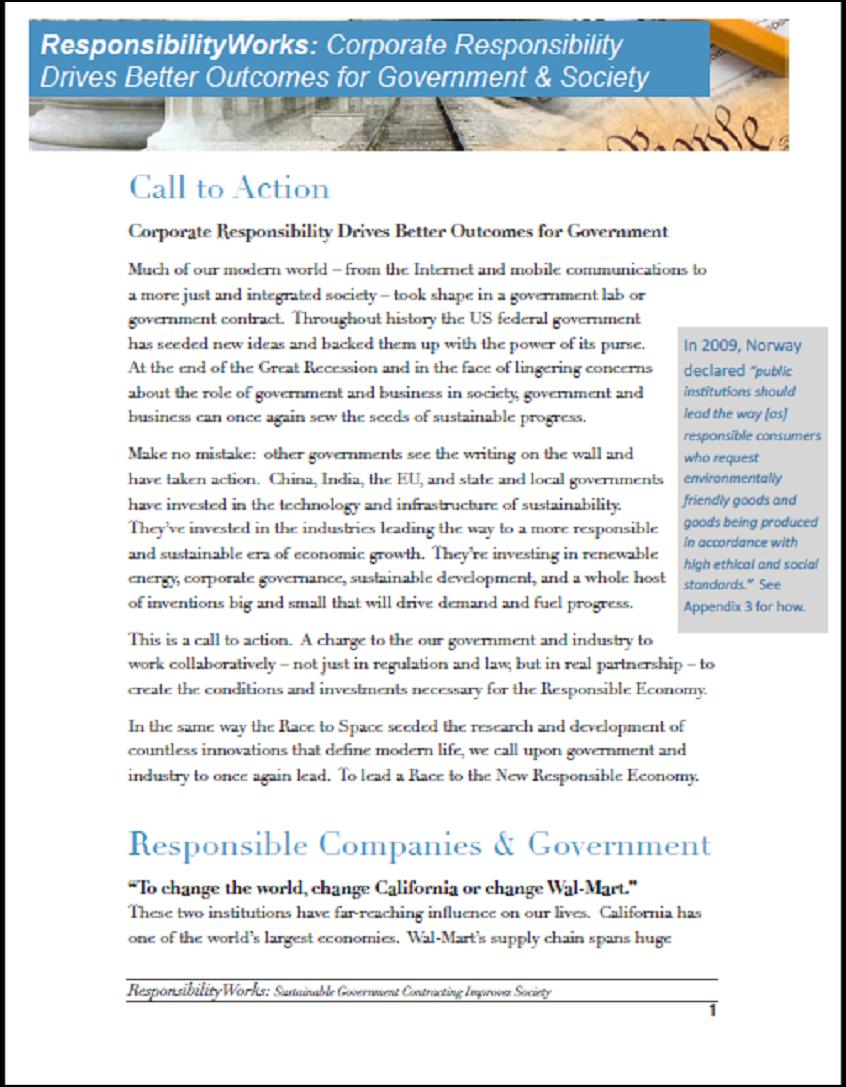 ResponsibilityWorks Call to Action
Seeking Pilot Partners & Participants
To prove that responsibility pays, ResponsibilityWorks seeks firms and agencies to participate in corporate responsibility pilots to deliver better mission outcomes for government. An array of potential pilot programs and examples of how other governments have taken action are provided in the full Call to Action.
The Steering Committee is currently scheduling meetings with potential government partners. To discuss participating in a pilot, please contact Heather Nielsen, Manager, Membership Services.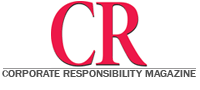 Inaugural Best Corporate Citizens in Government Contracting List
CR Magazine recognizes practices, measurement and disclosure among government contractors

For 12 years, CR Magazine and CROA have recognized the world's leaders in the annual 100 Best Corporate Citizens List. The 100 Best are selected using over 300 publicly-available data points gathered for us by IW Financial across seven separate domains: Environment, Climate Change, Human Rights, Employee Relations, Philanthropy, Governance, and Financial Performance. Too often these factors are looked at in isolation. The 100 Best Methodology takes a fully integrated, "balanced scorecard" approach, recognizing the linkages of these disciplines. The 100 Best List is now in the top three most sought after lists to be on by Global 500 CEOs, according to PR Newswire.
On June 29th, 2010, CRO Magazine and the CROA Corporate Excellence for Government Roundtable unveiled the inaugural Best Corporate Citizens in Government Contracting List . The list uses the same methodology as 100 Best, cross-referencing the results with the largest 100 government contractors from USAspending.gov. In subsequent years, Roundtable members will convene to propose additional criteria and research to supplement the methodology and ensure its relevance to this market. In this way the Roundtable will steward this recognition program as an instrument to increase corporate responsibility practices, measures and disclosure across the government contractor community.
To read the press release for the list, please click here.
CROA Convenes Government Roundtable
US Government Lags in Promoting Corporate Responsibility
On June 30, 2010, over 60 leaders from across industry, government, nonprofit and academia gathered at the launch event for CROA's new Government Roundtable, focused on helping government use its $535+ billion dollar buying power to increase corporate responsibility. The event featured GSA Administrator Martha Johnson, who talked about her bold declaration around moving GSA to zero environmental footprint and doing so in a collaborative and transparent manner. A panel of experts then led a discussion around how the US Government can use its buying power to promote more transparency, accountability and sustainability throughout the government supply chain.
To read the press release about this event, please click here.
For the speaker bios, please click here.
For the participant list, please click here.
GSA, EPA, NIH & DOE Share Resources in Preparation for Sustainable Supply Chain CoP Launch & Siemens, SAP, and Deloitte Share Value-Adding Practices at 3rd Annual Roundtable
If sustainability costs you more, you're doing it wrong!
************************************************
White House Launches Sustainable Supply Chain Community of Practice


The White House Council on Environmental Quality is teaming up with GSA to create a Community of Practice with a focus on sharing information between industry, non-profits and academic institutions on best practices in leveraging supplier relationships to reduce environmental impacts throughout the supply chain.
Through fostering an inclusive and transparent community, government gains access to information that can improve the sustainability of Federal procurements. The primary engagement platform will be Data.gov with the community broken down into six market sector groups identified by a recent GSA "hotspots" study -- IT, Professional Services, Waste Management, Furniture, Food Services, and Building Services. -- along with an "other" market sector for additional information sharing.